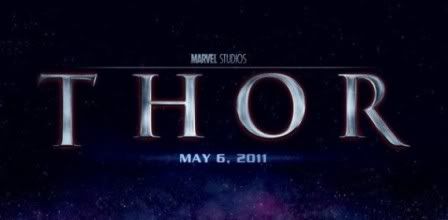 Aside from Iron Man 2, it would seem that movie studios have eased up quite significantly on their comic book movie titles in 2010, and aside from "Inception" the year has suffered for it in terms of the quality of its "blockbusters". That looks to be remedied in the next couple of years with the impending releases of "Thor", "Captain America", "The Green Lantern" and "The Avengers". Perhaps the break was a good thing to help people catch their breath.
As an avid comic book super hero fan, I am looking forward to these movies with great anticipation, however, lets face it, these titles are B-grade heroes at best. Sure, Iron Man has shown that if a film is well made it doesn't matter what the status of the hero was in his comic book form, but I do wonder about the broad appeal of these upcoming titles.
So it was a pleasant surprise for me to see the extended Comic-Con trailer for "Thor" which is due out early next year. This particular property seemed challenging to make in any kind of grounded form – remembering that in conjunction with "The Avengers", it is supposed to be set in the same world/universe as the "Iron Man" films which are somewhat grounded. This trailer made me feel better about the potential of this movie, but didn't leave me all that convinced that it would have mass market appeal. What do you think?