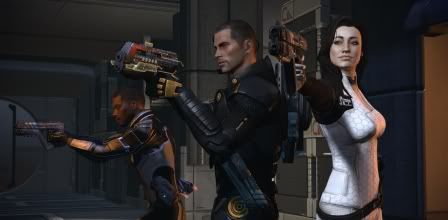 The sequel lived up to all expectations, and in many cases exceeded them. This game is wonderfully immersive, richly detailed, and exceptionally beautiful. It is fun, action packed, but also thoughtful, intelligent and absorbing.
Some of the weaker parts of the original game, such as the planet exploration via the awkward Mako vehicle and the ridiculously cumbersome inventory system have been done away entirely. The adequate shooting mechanics have been tightened up significantly, and the small technical glitches such as the texture pop ins have been fixed.
For me the best part of Mass Effect is the amazingly detailed world you play in, the strength of the characters you interact with and the overall story. What is particularly special about Mass Effect 2 is that your experience is in many ways unique to you. Not only do the decisions that you make throughout the game affect the way in which the story unfolds, and each player has the ability to affect their story in different ways at many points, but the decisions you made in the original game also affect the way in which the story unfolds in this one. By allowing you to import your save game from Mass Effect 1 the story picks up from the ending you created in the original and carries through, and as the game progresses the impact of your decisions are integrated into the narrative.
This creates so many different threads that the story can run along and it will be interesting to see how all these threads continue to run into the third game. The overall gist is the same, but the manner in which it plays out can be quite different.
I played this game for over 40 hours, including a single day where I played for 13 hours non-stop, it is that addictive, and yet still I find myself wishing it was longer. Some additional downloadable content is in the works, and it can't come soon enough.
One of the best games I have ever played. Five stars.